How to Tackle Your Super Bowl Party (+ 3 Recipes You'll Definitely Want to Make)
The biggest football game of the year is approaching and you're hosting, but are you completely prepared for "Super Bowl Sunday"?
Whether you're cheering for The Patriots or The Rams, or you're just thinking about watching Maroon 5 rock it out at half-time, these tips will help you get your home ready for all the food, fun, and guests that come along for the party!
Plus, read until the end to find some of our favorite Super Bowl Sunday recipes!
Get Your Entry Ready
It's the first and last area your guests will see. When you are preparing for a lot of guests to come over, you'll want to tidy up your entryway. Be sure to make it easy for guests to leave their shoes and hang up coats.
Get Your Action Room Ready
The next room to prep for Super Bowl Sunday is your family room or living room - where the action happens. First and foremost, make sure your TV is working, speakers are working if you have them, and have the correct channel ready to go. You will also want to make sure you have enough space for people to sit around the TV. Take note of how much seating you have. Other than your couch, you may want to add some folding chairs, ottomans, or even pillows and cushions for floor seating.
Get your decorations ready
If you want to create a festive and fun environment, you can find napkins, plates, silverware, and other party favors in both team's colors. You can also dress up your food for the occasion by having team-colored snacks and football-shaped foods. Find our favorite recipe ideas below.
Source: Fabeveryday.com
Kick up the adrenaline with a few games
Laughter and adrenaline are a great recipe for creating memories, and nothing produces both as fast as a game. Here are a few fun ideas that take less than five minutes to throw together.
1. Super Bowl Bingo
You can customize this game according to the football savviness of your guests. Simply print off a few blank bingo cards or make them yourself, then have your guests fill out the cards with a few plays or items they might witness this Super Bowl. You can focus on common commercial themes (i.e. quarterback sack, pick 6, offsides, touchdown dance). Customize it to what your friends and family most love. You can find free blank bingo cards to print off at home here and here. Or download pre-made cards here.
Image from playpartyplan.com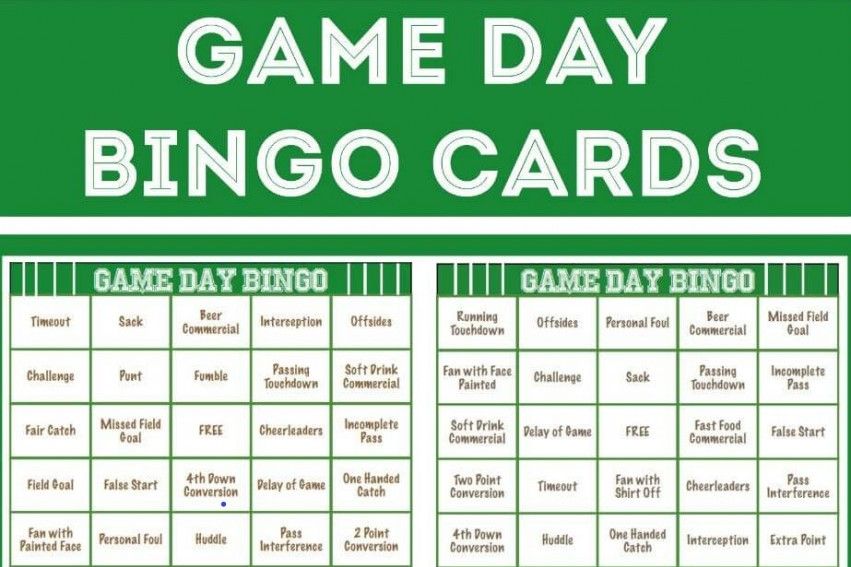 2. Touch Down Knock Out
For more active games, grab a football and a hula hoop or a stack of cups. See how accurate your guests are by seeing who can pass the ball through the hoop or knock down the stack of cups from various distances.


3. Football Guru Guessing Game
This game takes minutes to create but results in a lot of laughter. Cut several dozen strips of paper and have your guests write down the names of people or things related to football. Once you have a decent stack, put them all in a bag or basket and divide your group into teams. Each person will have one minute to get their team to guess as many names or items as possible without using any part of that word. Gestures, clues, charades, and impersonations are all allowed and make for some amusing guessing.
4. Super Bowl Score Pool
Using this free template or any 11 by 11 grid, you can create a pool for the final score of the game. Randomly write the numbers 0 through 9 along the top and left grids and then have your guests write their names in several of the grid squares. The person whose numbers match the last digits of each team's final score at the end of the game wins. (You can also have winners for half time or each quarter, depending on how many prizes you want to give out.) For a more simplified template, click here.


Image from livinglocurto.com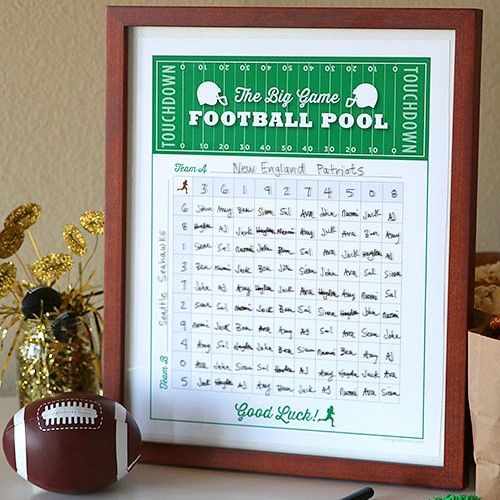 Mini Mac Sliders
What if you could make your own massive Big Mac — and easily break it up into mini sliders to share with your squad? This Behemoth Mac is the result.
Pepperoni Cheese Ball
This Pepperoni Pizza Football Cheese Ball is my new favorite thing! Super easy to make and a total showstopper! Make this for your next game day celebration and watch the crowd go wild!